Available now!
Melva

Mapletree
and the Quest for
Barnabas

Boggle

Make your choices matter
An interactive, online
game about making the

right choices
Melva Mapletree and the Quest for Barnabas Boggle is an interactive, online game which teaches children about the importance of making the right choices.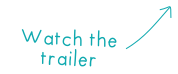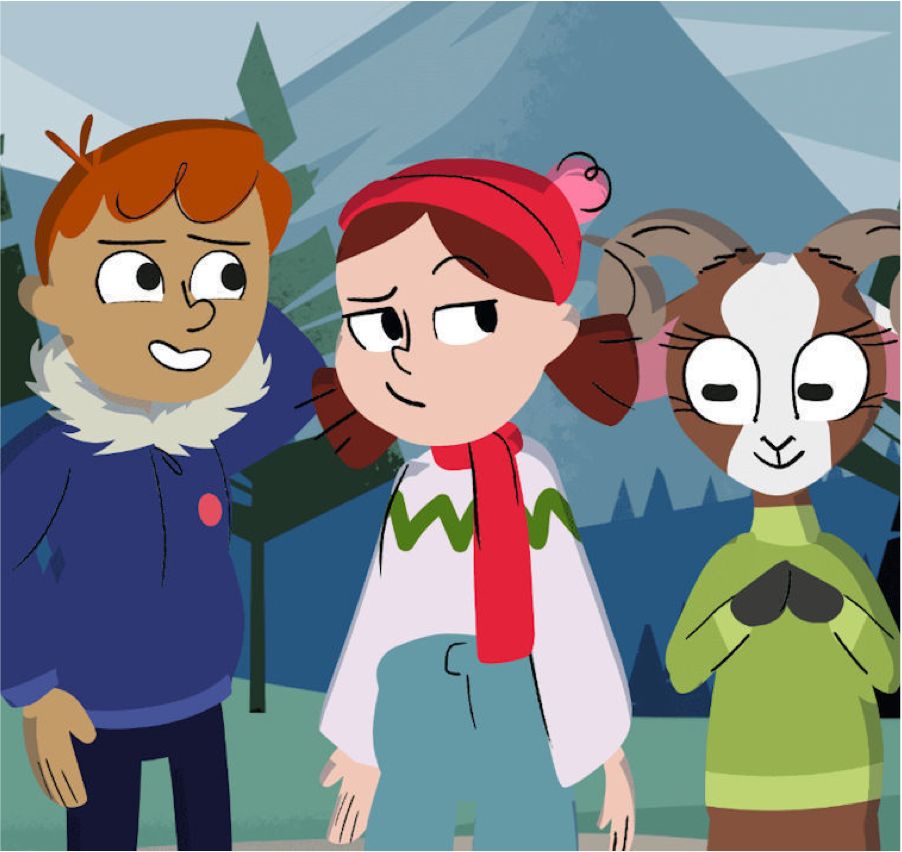 The game and activities are designed to deepen children's knowledge and understanding of their own and others' mental wellbeing
This game acts as a sequel to the original Melva story with a brand new Melva adventure unfolding and shifting the emphasis onto exploring relationships and supporting others, whilst still looking after for yourself.
In this choose-your-own-adventure style game, users take on the role of Melva's niggling voice – making decisions about what she says and does. When Melva's best friend, Barnabas, doesn't turn up to meet her after school, users must help Melva search Scratchicle Town for clues about his whereabouts and why he's disappeared. As well as choosing the right path, users must also complete fun games and activities along the way to help keep Melva's worrits under control.
Testimonials
What people are saying
about the
game
"[My class] constantly ask me when we are playing it next!"
"The format is engaging, the game is attractive, and it explores topics like anxiety in a relaxed and fun way"
"The game provides lots of practical and workable solutions for helping with childhood anxiety and everyday worries"
"I liked the games that we had to do to keep Melva calm"
"It's like a really fun, interactive movie!"
"It's a great resource for helping children identify and understand worries, where they come from and how to address them effectively"
What you get with the

Melva

game

Children can play the Melva Mapletree and the Quest for Barnabas Boggle as individuals, or as part of a group. As they play, children will…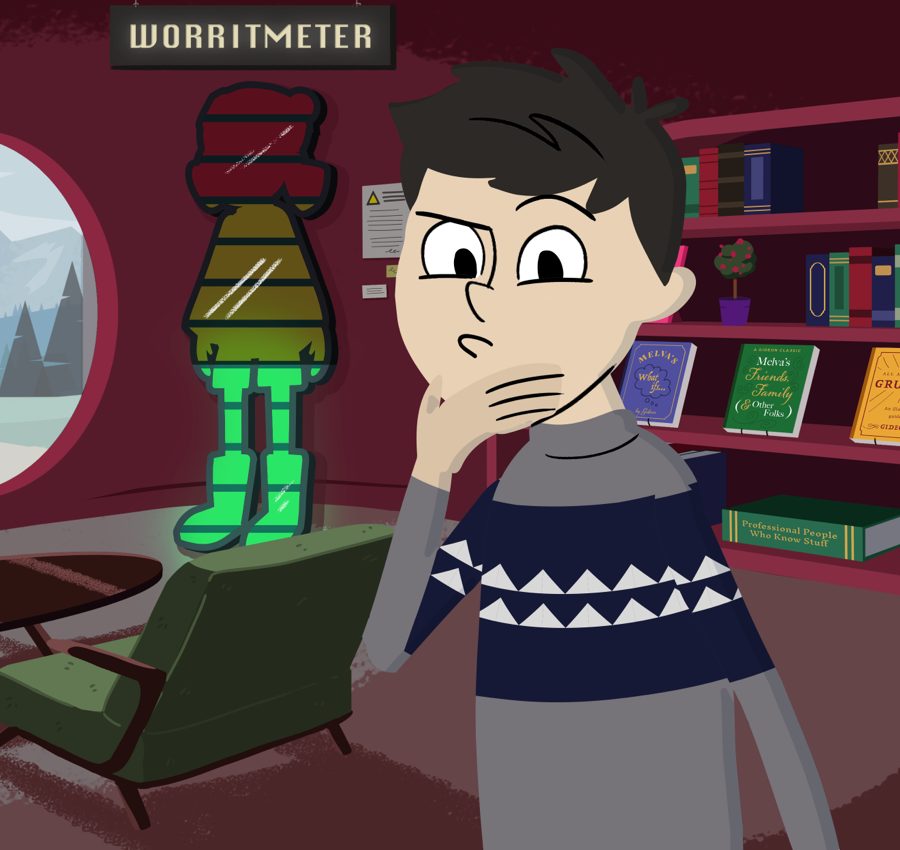 Make decisions for Melva as her
'niggling vo

ice'

Users take on the role of Melva's niggling voice, while her usual – and rather annoying – niggling voice, Gideon, is away on holiday. As Melva looks for answers about Barnabas' disappearance, they'll have the chance to choose what Melva says and does in response to the information she gathers. But they must be careful to make the right choices – or they risk setting Melva's worritmeter off!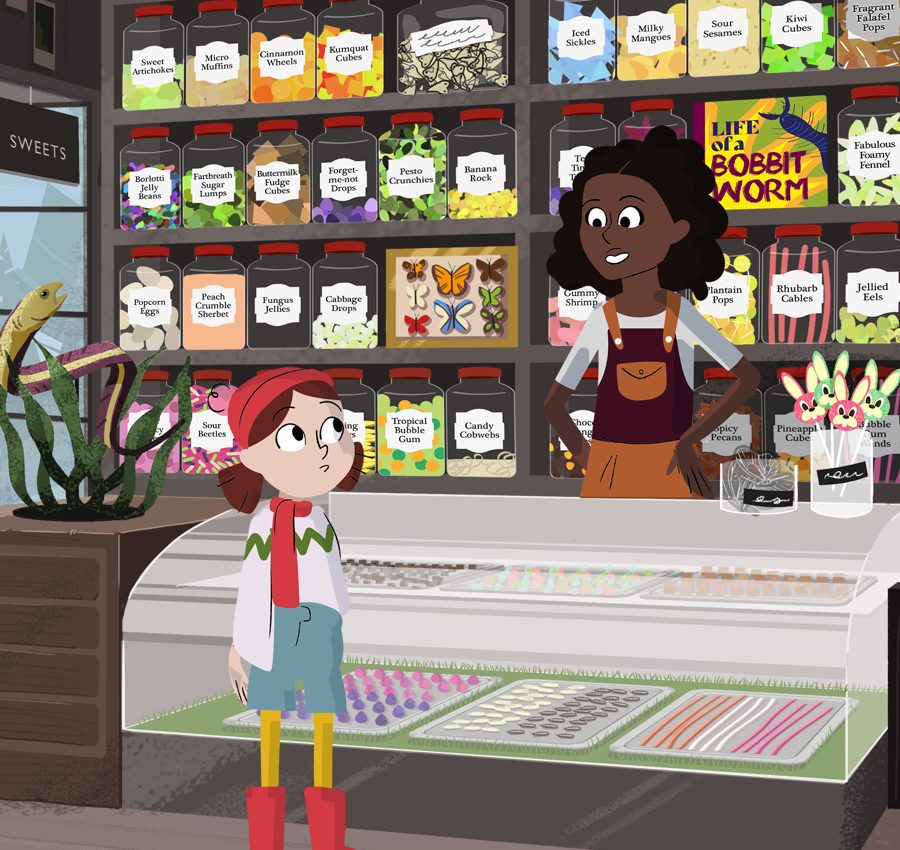 Explore


Scratchicle

Town


as they search for clues

As users work through the game levels, they'll uncover clues about Barnabas' whereabouts and more information about Scratchicle Town – the place Melva calls home. This information is disguised in 'clickable' items, ready to be discovered by the users as they explore the game. Some of these clickable items are just for fun, whilst others help to move the story along, or trigger a game, activity or discussion point.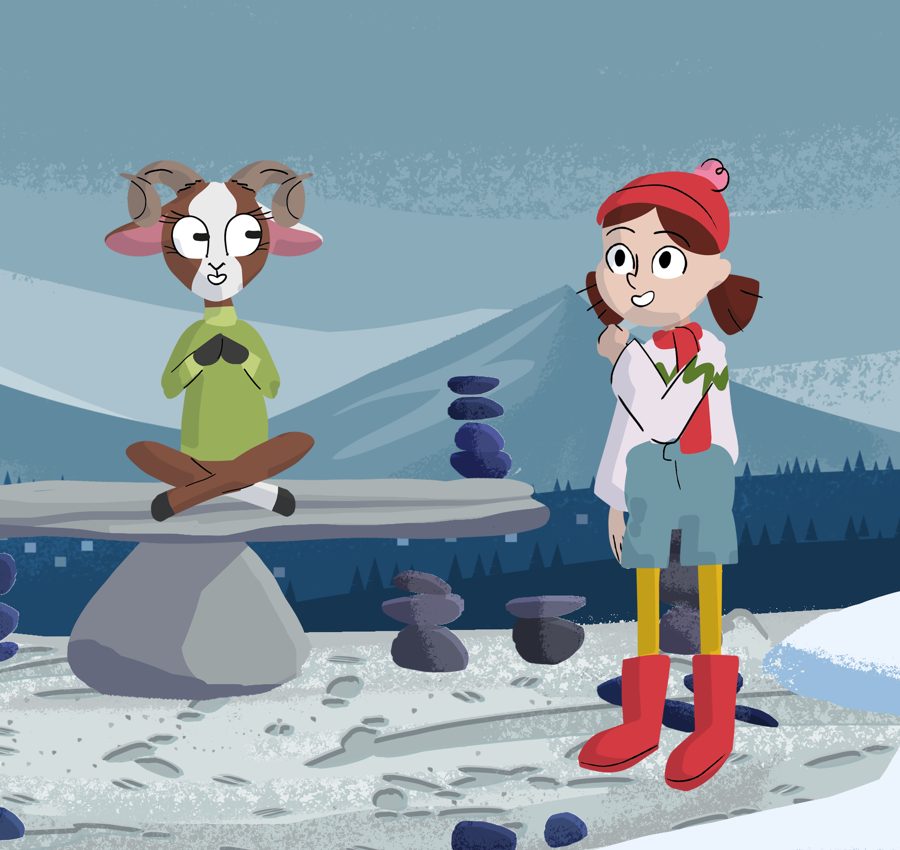 Interactive
games

, activities and discussions, both online and offline

Practical games and activities designed to develop and embed learning are scattered throughout the game for children to enjoy. These are easily facilitated thanks to our engaging and attractive activity booklets and user guide, which also include suggested discussion prompts, to help you get the best quality of conversation and reflection from your children.
Playing the Game – a note for schools
For schools, we recommend working through the game as a whole class – using an interactive whiteboard to make decisions together, play games, and have shared discussions.
Or, if you want to use the game with a small intervention group or make it available for your children to use at home, you'll still have the option to set them up with individual user accounts.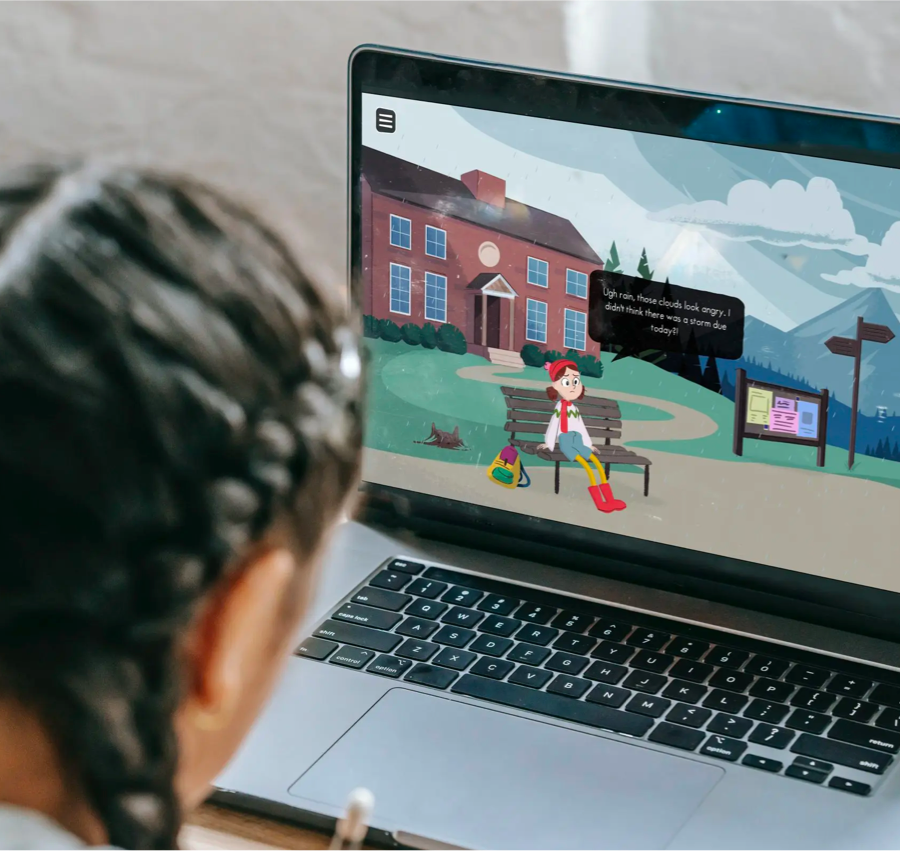 Package
Details
Schools and Groups
The standard game package for schools and groups comes with unlimited users and detailed lesson guides. The school admin function allows lead staff to set limits on individual user accounts, so if you choose to make the game available to your children to play at home, you can manage and monitor their progress.
Families
The game is also available as a family license, which comes with a simplified user guide and up to 4 user profiles to play with
Get Melva Mapletree & the
Quest for
Barnabus

Boggle
Access lasts for one academic year and will be renewed automatically at the start of the following year unless cancelled.
*£200 total saving when purchased together
What
you

and your
children

gain

from the
online game
The Melva programme is rooted in practical and legitimate mental health research
Melva specifically focuses on providing children, young people, and the adults in their lives with accessible language and a creative context to make talking and learning about mental wellbeing easier. Specific benefits of the game package include…
Developing empathy and understanding healthy relationships
This Melva story focuses on better understanding our relationships with other people – friends, teachers, parents, and even celebrities. Through storytelling and discussion, children will explore how they can provide positive support for others, and how different relationships can impact our wellbeing, both positively and negatively.
A chance to experiment and play
One of the key reasons the Melva programme works is because it is fun. Children can learn and talk about sensitive topics in a way that is not heavy handed or intense, and the inclusion of playful features like our 'whack-a-worrit' game, or the clickable items on each level help to keep children engaged throughout.
Understanding the importance of making good choices
Throughout the game, children are presented with multiple choice options for what they think Melva should say or do – but some of these options are not always productive. By including choices which are silly, daft, or harmful, children have the autonomy to make the wrong choice, understand the impact, and then try again.
Developing practical strategies
Practical activities, such as breathing techniques, mindfulness exercises, and written worksheets are incorporated throughout the game – equipping children and the adults in their lives with the practical strategies they need to better understand and manage their worrits.
A bank of resources to continue conversations
When you've finished the game, you'll have a toolkit of resources, activities, and shared experiences through which you can shape your overall approach to wellbeing – utilising the child-friendly language from the Melva world, and referencing the characters your children have grown to love.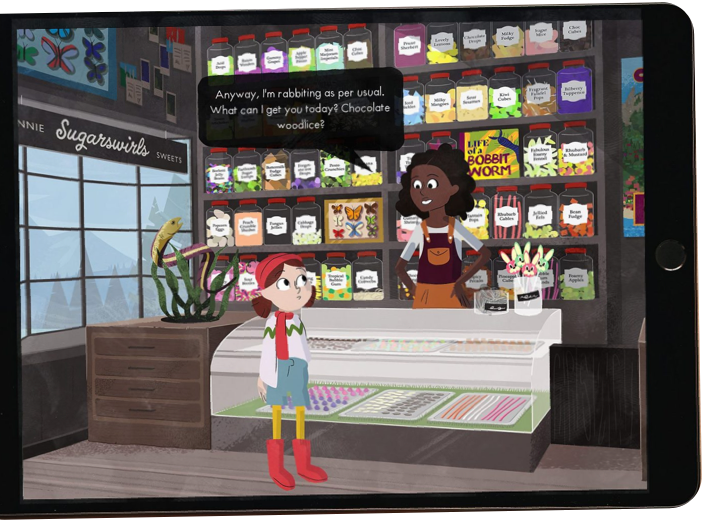 Learn

with
Melva now

The Melva programme has been developed in ongoing consultation with children, teachers and families since 2017, and is available for you to use in your own setting now

Get Melva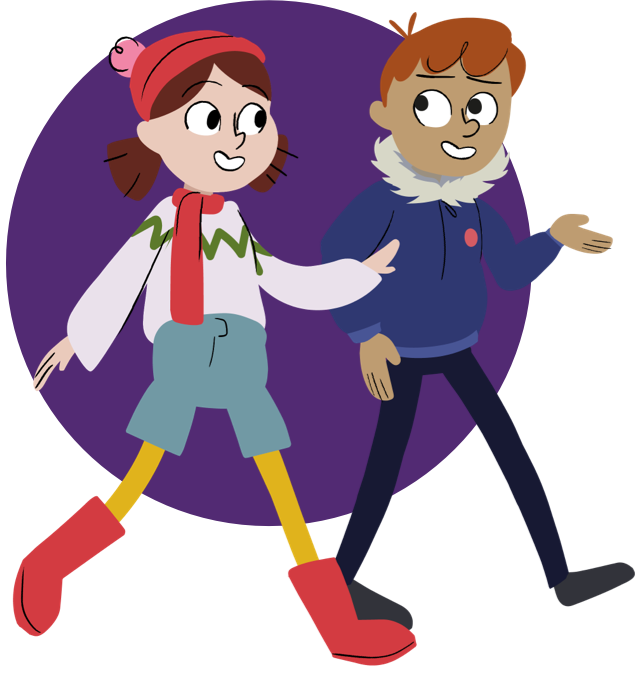 Frequently asked

questions
How long does a license last?
School licenses last until the end of the academic year in which they were purchased and will renew automatically at the start of the following year unless cancelled, with invoices issued in July. If you purchase a license towards the end of an academic year e.g. Summer Term, we will liaise with you directly to discuss your license start date.
Family licenses do not expire, but are limited to 4 user profiles and once the game has been completed, it can't be restarted.
Community or non-academic group licenses will be agreed on a case-by-case basis.
Is my school or community group eligible for any discounts?
We have various discounts available on our online Melva packages.
Northumberland Schools can receive a 30% discount (thanks to significant funding from Northumberland County Council)
Trusts purchasing 5+ licenses can receive a 20% discount
Schools purchasing the online package before December 2021 can receive an early adopter discount of 10%
If none of the above applies to you, you can also get in touch to discuss bespoke discounts for groups or home-schooling.
When will the live show be available again?
Touring the live show takes a big team of people, a lot of expensive equipment, and a lot of planning – all of which costs a lot of money. In order to make the live show affordable for schools and groups, we need to raise a significant amount of funding to subsidise the cost, and therefore it is unlikely that we will be touring the live show again before Autumn 2023.
What age range is Melva for?
Melva is designed for young people aged 7-11 (Key Stage 2 in England and Wales, or P4/P5/P6/P7 in Scotland).
Note: Some of the language used in the game may seem advanced for Lower Key Stage 2 (P4/P5). Throughout the Melva programme, we've tried to balance the content so that it will appeal to both the upper and lower end of this age range – inevitably this means not everything will land with every child the same way, but this will not hinder their experience.
Who do I contact if I'm having issues with my login?
If you are having trouble with your Melva online login, please contact melva@mortalfools.org.uk and we will endeavour to get back to you as soon as possible.
Note: The online user guides also include some basic troubleshooting tips, so please make sure you've read this carefully before you start using the platforms.